---
EYES THAT SAW ARE WIDE SHUT
---
Akhu Chingangbam
Chingrimi Shimray
Lapdiang Syiem
Pranami Rajbangshi

Curated by Kumam Davidson Singh

---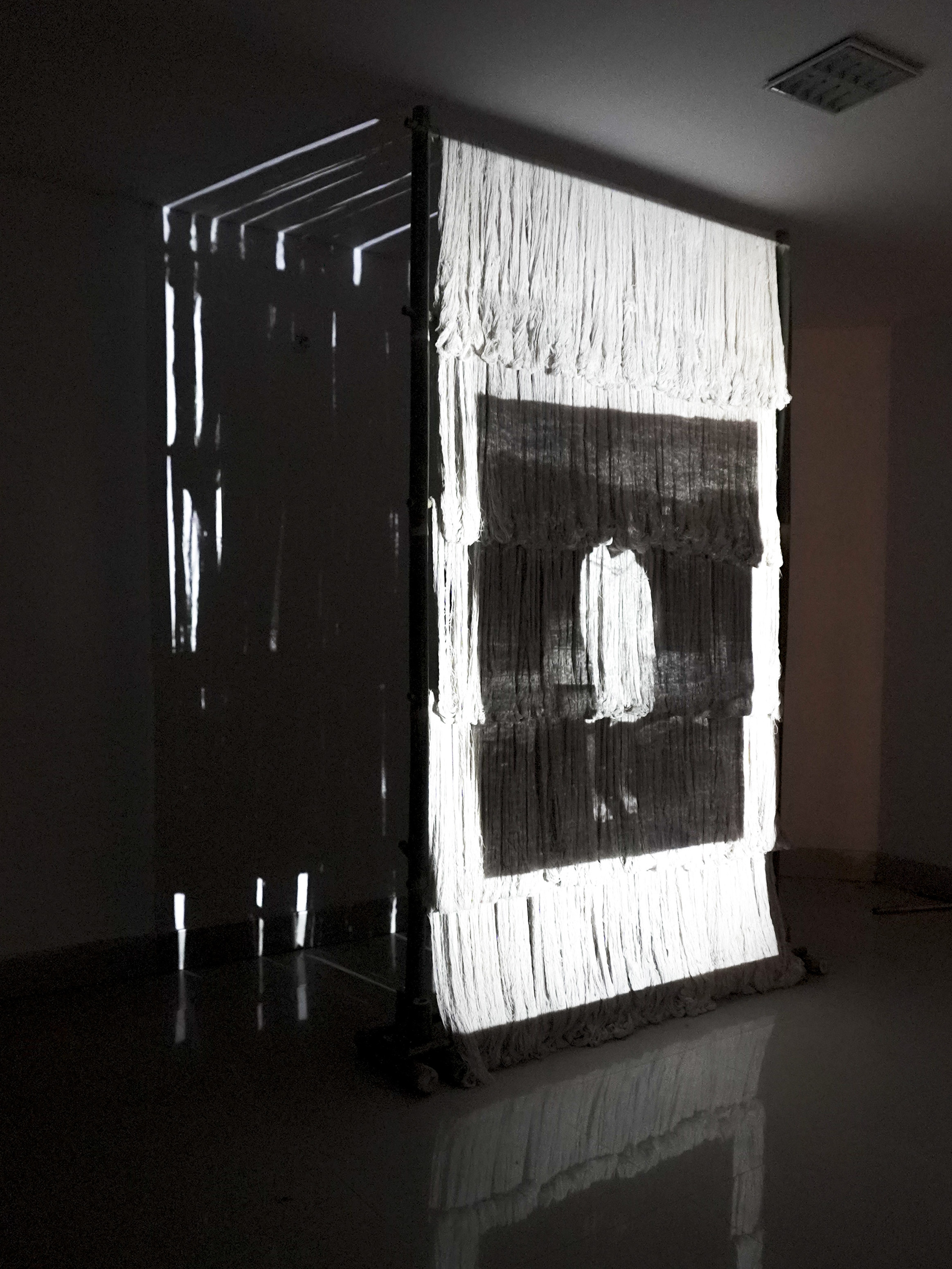 ---
Curatorial Note


Bodies that hang from ceiling fans, bullet pierced vaginas and dismembered flesh stuffed in polythene bags. Silent muffled cries behind bedroom doors and high-pitched vocals from the procession through the streets and barbed wire gates. What a spectacle!

Spectacles that you saw and turned a blind eye because you are told a 'witch is a witch' and a 'mad woman a mad woman'. Thus, stories of women are told through eyes that were never really theirs – Édouard Manet's Le Déjeuner sur l'herbe to Ved Vyas's Draupadi.

Over the years, art that seeks to challenge the dominance of cis men and patriarchal values, both in art and society, have pushed the boundaries and practices of art. The coming together of art, women and feminist movement, the ever-expanding alliance with queer-trans movement have brought about fresh perspectives and contents to emerging art.

Can art today enable women to become 'subjects and story-tellers of their own' from merely being 'spectacles and muses of art throughout history'? What happens to women's narratives if we retell them through the eyes and perspectives of women and feminists? What happens to women's narratives when we open the eyes that are wide shut?

Eyes That Saw Are Wide Shut are a collection of ongoing bodies of work that found its origin in the archives of North East Network (NEN) – A Women's Rights Organisation. The artists engage with the archives and expand conversations contextual to their practices. They retell women's stories in different art forms and mediums. The process of art-making, incubated in a Residency by Northeast Lightbox, comes alive in an interactive Open Studio at the Assam State Museum, where the audience will engage with, and participate in the artist's works in progress.


---
Akhu Chingangbam - Songs of Women
2-Channel Video, Sound, Color
00:08:32,4:3
Archival Footages
North East Network's archives store a knowledge bank towards how the women of NE have suffered because of internal State-based conflicts and patriarchy. Yet their resilience and courage remain unparalleled. Akhu creates a bold audio-visual work, using voices of mothers, sisters and daughters. He recorded voices of a Manipuri poet, Moirangthem Borkanya; uses the soundscape of the Mothers' protest in front of Kangla Fort against rape and killing of Thangjam Manorama by Assam Rifles; and folk songs in the form of lullabies often sung by a mother to her child being carried on her back. The visuals are entirely sourced from archival material, put together to illustrate a feeling towards the audio-work.
---
Chingrimi Shimray - How Do You See A Flower?
Sculpture, Projection
9 Slides, 9x16

How do you see a flower? Chingrimi looks at textile as a medium of archive in the context of Oral communities. As a researcher of Textiles, it was crucial for her to bring in a perspective that looked at the medium beyond the aesthetic and utilitarian strands of a cloth. The NEN Nagaland Archives explores agriculture and textiles as a means of preserving indigenous knowledge. What drew her to work with the archives was familiarity.
---
Pranami Rajbangshi - Pictures in My Head
Composition, Found Material

Research Spread on Table
Exploring and focusing on the socially skewed aspects of witch-hunting in Assam, Pranami looks at the visuals that accompanied the news reports of witch-hunting cases in Assam, in both print and digital media. As an exercise people were supposed to write over the images reacting to how they felt like looking at them without the supporting text. The display includes photographs of women who were survivors of witch-hunting, with audio recording of their personal narrations and accounts.
---
Lapdiang Syiem - Ka Jingïathuh Biang (A Retelling)
Participative Narration
Audio Recordings from audience
Ka Jingïathuh Biang (a retelling) has been scripted from the film 'haba kynih KI SYIAR KYNTHEI (when THE HENS CROW)' by Tarun Bhartiya and produced by the Action Northeast Trust. This piece invites the audience to participate in the retelling of an event that took place in 2008 in Jongksha Village in Meghalaya. It has been accounted from the perspective of three women and the narrator about the filing of an RTI in relation to the implementation of the MGNREGA (Mahatma Gandhi National Rural Employment Guarantee Act) in Jongksha village. Today in Meghalaya when there is an ongoing debate on whether women have a place in governance especially in the local Dorbars, this film acts as a reminder of the struggle and victory of these women who chose to speak out at the risk of being ostracized from their village and community.
"I invite all of us to be part of the retelling as we provide a space for this story to continue to exist in our collective memory, as we consciously perform the act of 'Ka Jingïathuh Biang'."
---
---